A Property Manager's Guide to Seasonal Maintenance
There's a crisp in the air, the leaves have begun to change and drop, and there have even been a few frosty mornings, which can mean only one thing… fall is here!
Changing seasons signal time for transition. At Sea to Ski, fall transitions largely focus on seasonal maintenance and preparing our client homes for the coming winter. Covering all the bases of fall maintenance and ski season preparation makes for a premier winter in Park City and helps prevent some unwelcome surprises in your home.
Effective property management starts with proper and consistent maintenance of the home's exterior and interior systems and equipment. Every season puts different stressors on the makeup of your home. In some cases, the city or county even requires an annual inspection of a particular home system. Whether it's a roof leak, broken pipes, a dirty chimney, or a furnace on the fritz, you don't want an oversight in simple preventative maintenance to result in costly damage to your vacation home.
With 15 years of experience as one of Park City's top property management companies, Sea to Ski Premier Home Management knows a thing or two about proper seasonal maintenance. We've taken our comprehensive fall checklists and broken it down into 4 main categories to give you a better understanding of which bases to cover.
"We treat your home like our own."
EXTERIOR – Inspections and servicing//
The exterior is like the outerwear of your house. It takes the brunt of exposure to all the elements (wind, sun, rain, snow, cold, heat, critters, etc.). Heading into the winter months, it's especially important to perform thorough inspections of the exterior of the home. This allows for proactive replacement or repairs, as opposed to discovering there are issues once damage has already been done. *Think, roof leaks or bursting irrigation lines.*
Each checklist is specific to each home, of course. At Sea to Ski, we utilize a custom property management software platform to catalog the details, systems and equipment for each of our clients' homes. This enables our Personal Home Managers to better track inspections, repairs, preventative maintenance, and so on. Armed with up-to-date property histories at their fingertips, our PHMs confidently assemble custom maintenance checklists that suit your home for that season.
Exterior fall maintenance can entail many things. Some tasks are more aesthetic and organizational, like storing outdoor furniture and cleaning deck/patio surfaces. While other tasks are meant to winterize, like sprinkler blowout and irrigation system closing or clearing out gutters and driveway drains.

It's also crucial to check roofing conditions and test snowmelt systems during exterior fall maintenance – does the heat tape work properly? How about the driveway snowmelt? Identifying and repairing issues with these systems BEFORE the snow arrives will help prevent major damage that large snow loads and the freeze-thaw cycle can create.
INTERIOR – Servicing and certificates//
Although the house exterior bears exposure to the elements, the interior of the home is where all the LIVING happens! It's also where the home systems and their associated mechanical equipment are most often located.
As it turns out, homes are actually made to be lived in. The systems that make the space comfortable and livable actually function best when they are used and run on a regular basis. However, you may only be able to spend time at your second home (on average) a few weeks out of the year. That's where we come in.
Yes, our Personal Home Managers perform thorough home inspections weekly while clients are out of town. And yes, while they are inspecting, they are also making sure to run home systems – flushing toilets, running faucets, clearing out ice makers, testing heating and cooling systems, turning on lights, etc. While this is crucial to keeping these systems and equipment in motion, the interior of your home also needs preventative maintenance and service on a seasonal basis.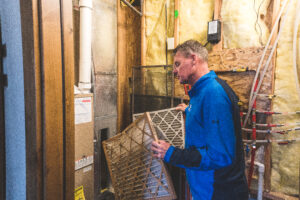 From replacing smoke detector batteries to coordinating full heating system check, humidifier filter replacements and water softener service, making sure that everything is in good working order and any preventative maintenance is performed will help extend the life of your home systems and ensure your home remains warm, cozy, and comfortable throughout the winter.
In some cases, county or municipal authorities require an annual inspection of certain home systems – particularly related to safety and resource management. For example, Park City Fire District requires an annual inspection certificate for all fire suppression systems (fire sprinklers) and backflow systems. Those inspections may identify repairs needed in order to pass the certification, but more importantly, so that they function properly to protect your home.
CLEANING//
It's true: Sea to Ski Premier Home Management provides clients with top-notch housekeeping services on-demand – whenever requested. However, adding seasonal deep cleans will go a long way in maintaining your home's interior – surfaces, floors, carpeting, upholstery, furniture, and so on. Not to mention, it can help remove excess dust, allergens, and other impurities that tend to accumulate in hard to reach areas of your home, so you can breathe easy!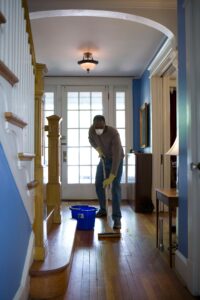 While our in-house cleaning staff go the extra mile with vacuuming, dusting, scrubbing and mopping, sometimes (seasonally? annually?) it's best to bring in the big guns to shampoo the rugs and carpets of your home as well. Let's be honest, vacation homes can be a bit prone to stains and spills. What with ski gear, mountain bikes, hiking shoes, dinners and fire-side celebrations… things can get a little messy. Sea to Ski works with the best carpet cleaning vendors in Park City to leave your rugs looking like new.
In Park City, it's tough to find a bad view. All over town we have panoramic vistas of the beautiful Wasatch Mountains and high-prairies. It's no wonder so many of the homes have floor-to-ceiling windows, to take in the gorgeous views all over the house. Fall is a great time to consider getting the windows cleaned – inside and out. Our professional window cleaners wipe away the dust, grime, and hard water deposits to make your windows sparkling clear.
CONCIERGE//

Fall maintenance extends to our concierge services! Sea to Ski does it all. We can restock your firewood supply or bring your ski and snowboard equipment to be tuned. How about detailing your car? Or, better yet, how about getting the snow tires put on? If there's anything we can get ready for you for the winter ahead, please don't hesitate to ask.
Preventative seasonal maintenance of your home isn't just about getting ahead of issues, it's also about keeping your home looking great!
At Sea to Ski, we have a deep knowledge and understanding of the local Park City market we service. Recommendations are made with an eye toward maintaining and maximizing the return on one of your largest investments – your vacation home. We provide personal consultations with proactive recommendations and improvements for your property. The principals at Sea to Ski have owned vacation properties throughout the Intermountain West. We understand and appreciate things from the homeowner's point of view!